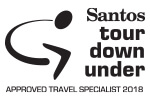 Welcome To Our 2018 Santos Tours Down Under Australian Event
It's our pleasure to welcome you to Adelaide, a town I was born and raised in. Cycling runs in the blood, I'm a fourth generation cyclist from a family who've made cycling part of their life.
We've ridden almost every road and trail in South Australia, we've hosted trips to the last seven Tour Down Under's. We know Adelaide and the Tour Down Under like the back of our hand.
We'll guide you around this beautiful part of Australia as only locals can, we'll take you on the best roads, stop in at the local coffee places – you might even share a caffè latte with the pro's.
I met my wife, Grace here in Adelaide. Passion comes naturally to everything she does, it comes from her Italian roots. Grace was working in the wine industry when we first met she has an incredible knowledge of the wines, the vineyards of the Barossa Valley, Adelaide Hills and McLaren Vale.
As an Official Travel Specialist for the Santos Tour Down Under, we have access to all of the VIP events, we've personally been to all of these VIP events over the years, they are well worth attending and we can recommend them.
Grace, I and the team look forward to welcoming you to Adelaide and showing you around.
Cheers,
Pat Fitzpatrick
Watch this short video from our 2018 TDU tour. John Steffensen from Chanel Nine, Olympic Silver Medalist takes a ride with our group.
OUR TOUR HIGHLIGHTS
20th edition of the Santos
Tour Down Under
Barossa Valley – McLaren Vale – Adelaide Hills Wine regions – Mount Lofty, Glenelg Beach, Adelaide City, Willunga Hill. Ride Like Crazy Gran Fondo and Bupa challenge Tour.
Advance Bookings:
We open up our Advance Reservations for trips so you can book well ahead. Guarantee your position by booking up to 12 months prior.
If you'd like to organise and book your trip more than 12 months prior, contact us via email or phone, we'll arrange everything so you can make an advanced early booking.
An advance booking, accompanied by a fully refundable $750 AUD (Australian Dollar) ensures priority booking status when the trip details are announced. Note, an advance booking is not considered final until payment is received.
Once specific trip itinerary details are finalized, we'll contact everyone on the advance reservation list via email, we'll include the itinerary and offer a priority booking position before opening up bookings to the wider community.
If a trip fills – as it often does in the advance bookings, we create a waiting list and then offer reservations on a first-come, first-serve basis (based on the date the advance reservation was made) once our advanced booking guest have finalised.
To cancel an advance reservation a cancellation request must be submitted in writing/ via email within 14 days of the trip details being published. The (AUD) $750 advance reservation payment will be immediately refunded for any cancellation received within this 14-day period.
Final Payments:
The balance of your trip payment is due no later than 120 days prior to your trip departure date, we will forward via email your final payment invoice. You can choose to make full payment earlier if you prefer to finalise your trip payment early, contact us and we will arrange for an invoice to be sent.
What if I have to transfer, change or cancel my trip:
We understand you may not be able to go on your trip, cancel, change or transfer due to personal or medical reasons. We want to make it as easy as possible for you to transfer to another trip that has places available. If you have a question give us a call or email.
Due to the high demand, limited hotel availability and the advance payments expected by our hotels and restaurants we use, the following cancellation conditions apply to all of our trips.
AFTER BOOKING, IF YOU CANCEL:
| | |
| --- | --- |
| 120 – 91 days prior to departure | 50% cancellation fee of the trip price |
| 90 – 61 days prior to departure | 75% cancellation fee of the trip price |
| 60 days and less prior to departure | 100% cancellation fee of the trip price |